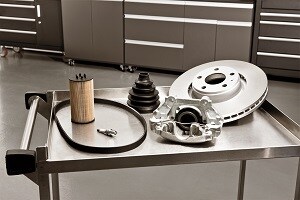 Audi Parts at Biener

Welcome to our Audi Parts department! Audi parts at Biener Audi on Long Island maintains a comprehensive inventory of 100% OEM (Original Equipment Manufacturer) parts for Audi models like the A3, A4, A5, Cabriolet, A6, A7, A8, Q5, Q7, TT, allroad, and R8, as well as for your Certified pre-owned Audi. The benefits of purchasing genuine OEM Audi Parts as compared to others is that these auto parts fit to Audi's exact specifications are top quality build and come with a manufacturer's warranty and a factory-backed guarantee.
Whether you need mechanical parts, body parts, exterior parts, interior parts, accessories or personal and/or gift items, Biener Audi offers has it all. For years, Biener has been Long Island's source for genuine Audi parts. We maintain a complete inventory, but if by chance a part is not in stock, we can always order and have it delivered a timely manner for quick installation into your Audi. You won't experience lengthy, frustrating waiting periods. Like you, we want you back behind the wheel of your Audi on the road as quickly as possible.
Feel confident making your next Audi parts purchase at our Glen Cove, Long Island location. If you're unsure about which parts to order, our friendly, knowledgeable staff is here to answer your parts questions. Just call us at (888) 450-8281.
If you are unsure about completing the repair or Audi parts replacement on your own, our service department can do it for you quickly and affordably. Call us at (888) 449-1810 or click here to schedule an appointment today.