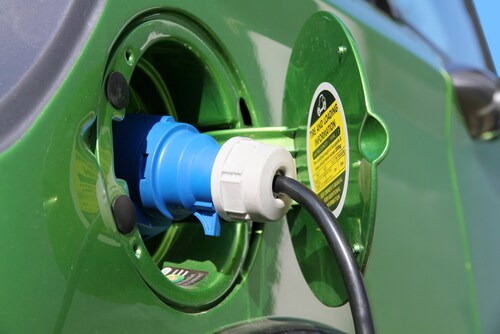 If you want to help protect the environment and not compromise vehicle performance, consider the A3 Sportback e-tron® plug-in hybrid. This compact vehicle offers a perfect combination of gas and electric power and achieves an impressive 204-hp and 258 lb-ft of torque, offering better performance than many other hybrids and conventional cars. Plus, it is greener!
The Audi A3 e-tron offers impressive performance from dual power sources:
Charging: Electric Power An Audi-designed home charger doubles as a convenient mobile charger from various sources, allowing you to charge on the go and reducing the need to run on gas.
Fuel: Gas Power Go anywhere with the economical gas engine. It provides power when the battery is low, charges the battery and supplements the electric motor to provide faster acceleration as needed.
Hybrid Mode: A Combination of Gas & Electric For optimal driving performance, the Audi A3 e-tron picks the best combination of driving power all electric, gas or a combination of both depending on the situation.
The Audi A3 e-tron delivers a hassle-free approach to sustainability with an exceptionally low carbon footprint. Check out this and other A3 models at Biener Audi in Great Neck. Visit our award-winning showroom and our skilled sales team would be happy to assist you in selecting your hybrid or pure gas powered Audi A3.