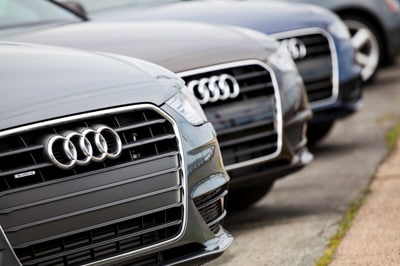 Biener Audi is confident in the performance of our new and Certified Pre-Owned vehicles. Audis are one of the most resilient cars that can withstand daily use around town and on the highway. Plus, every Audi vehicle comes with a Manufacturer Warranty that offers peace of mind. However, it pays to consider an Audi Extended Warranty even before the Manufacturer Warranty expires.
Savvy Audi owners purchase Audi Extended Warranty coverage for their vehicles even before their Manufacturer Warranty runs out. This enables them to lock in the most affordable rates, avoid warranty cost increases down the road and further protect against expensive vehicle repairs. It's a sound investment in your vehicle's future.
There are different kinds, types, and levels of Audi Extended Warranty options. For example, one that includes "wear and tear" provides a higher level of protection over time for parts' damage from regular use. The older your vehicle, the more important -- and more expensive -- wear and tear coverage becomes. "Down the road" you'll be glad you invested today in an Extended Warranty providing this valuable coverage.
Rest assured, Biener offers comprehensive Audi Extended Warranty vehicle coverage at reasonable rates. If you have questions, our knowledgeable staff will be happy to review an Audi Extended Warranty contract with you so you know exactly what you'll receive. Always care for your new or Certified Pre-Owned Audi with proper scheduled maintenance including regular oil changes, tire rotations, brake checks and more. Regular scheduled maintenance of your Audi also ensures more trouble-free miles during the life of your vehicle.
Plus, Biener Audi always keeps accurate maintenance records of work completed, so if we've performed a service and it's covered under your Audi Extended Warranty with Biener, you'll be covered. The Biener Audi Service Center will help preserve the value of your Audi and keep it looking and performing like new with genuine Audi parts and accessories.
For additional information on the
Audi Extended Warranty
, please call us at
1-866-218-9237
or visit our showroom on Long Island in Nassau County, New York.  Simply
click here for driving directions
, hours and contact information.